Defening events
You define all messages or a selection thereof with the communication screen, based on pre-formulated events.
You can also link several messages to one activity. Example: a start message to an employee or an information message to management, by main group.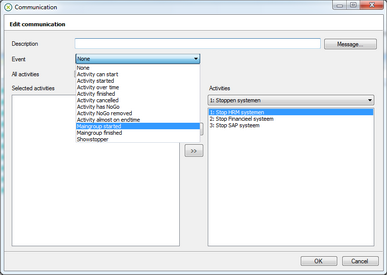 Preparing messages
On this screen you define the content of the message. You also choose here if you create a sms or e-mail (including recipients).
You also choose here if a message is linked directly to one person or a group of people. You can also use variables from the database. Because the variables are linked to an activity Time IT automatically defines the content when the message is sent.
You are completely free in the composition of a message: you can enter a set text or a combination with variables. That means that you only have to define one message for a kick off for example.