A template is always based on a role because a role never has its own agenda. That means that a template is always initially "Time Driven" in the calculation method.
Normally, a template based on roles is only used for the Emergency module. If you activate any of those templates, after the matrix is filled (assign roles to employees), the template will be converted to a step-by-step run book that will become active immediately.
But now it is also possible to assign a template via the matrix (role to an employee) to turn into a run book that is NOT active, as opposed to a run book for emergency.
The reformed step-by-step run book can then be adjusted in terms of calculation methodology or other matters.
Applicability is diverse. For example, for managing a certification within an organization or migration from a customer to the Cloud. Actually, it can be used everywhere where the predefined steps are used more often!
The predefined templates are always saved. So beforehand, you can already define everything, such as adding comments, linking documents and adding communication messages.
The run book can be modified later by changing or adding steps from another run book or template. You can copy main groups from a template or from another run book.
Activation of the above-mentioned step-by-step run book (stand-by or in progress) is done via the normal verification procedure as with another run book.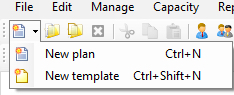 Via the 2nd. option from the menu, allows you to create a new template for a run book or for a emergency run book. Once you have created a template, you can assign and edit all the associated data.
This information may include:
Main groups
Role
Activities
Documents
remarks
Communication messages
Go/NoGo
Below a completed template.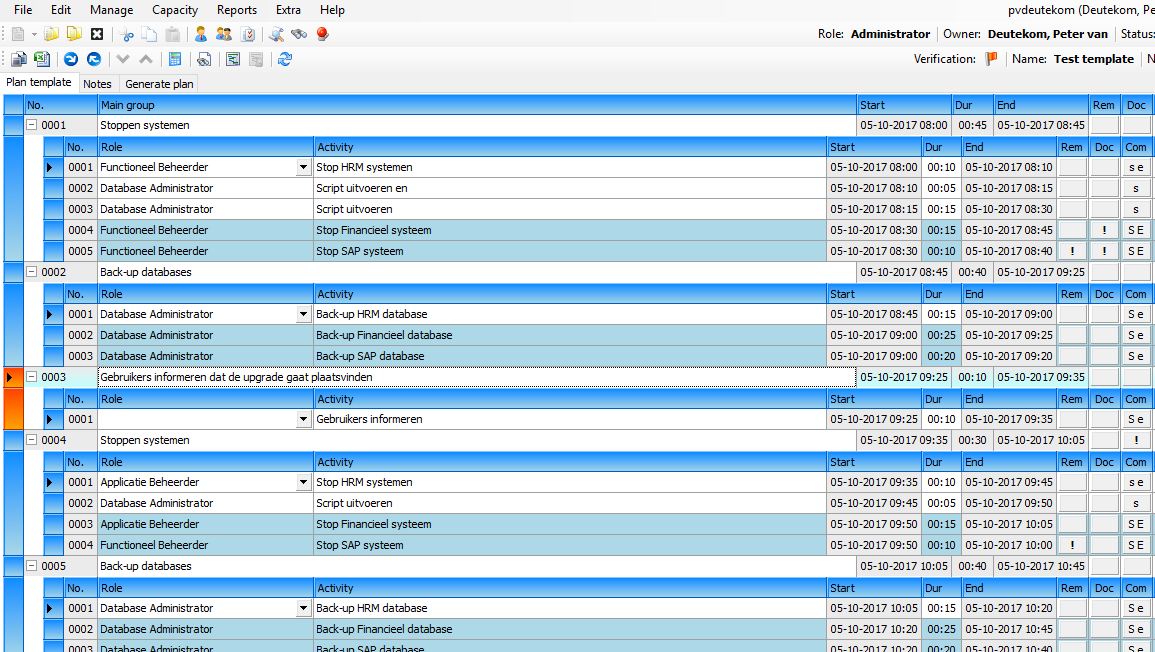 Via the option: Generate plan, you can generate a plan based on the template.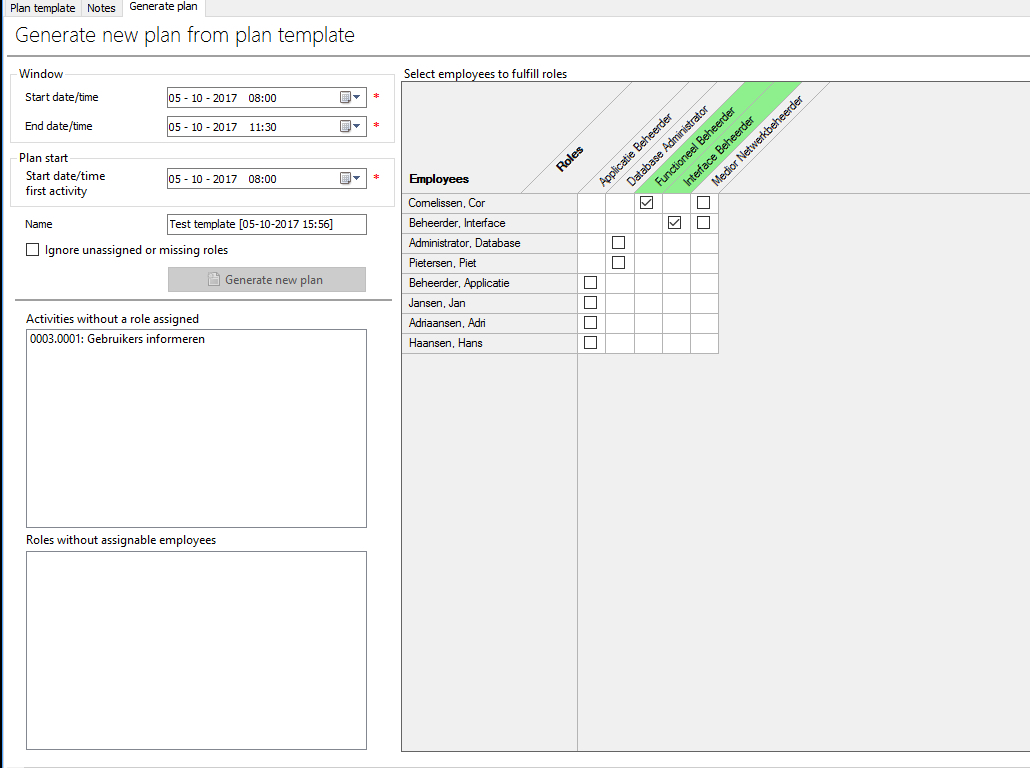 The green shaded roles are automatically assigned to an employee because there is only one employee to whom this role has been awarded before!
The other roles must still be awarded.
On the left side you see various employees. You must decide now who will be awarded the outstanding roles.
When you move your cursor over the matrix, you will see the role and name of the employee using the blue color.
Only when all roles are awarded, you can generate a new run book, but there is an escape!
If certain roles in the template have not filled in, you can still generate a run book via an option on the left. You can then fill in the missing items through the run book.
If you have finalised the window and start time, you can customise everything like the calculation method, fixe start times, etc. through the normal steps of the run book.
In this way you can prepare building blocks in a template, combine them later, and generate a new run book at once. You don't have to find the same wheel every time!